The Blake Cory Success Story is pretty awesome.  Earlier this year, we featured him on one of our Facebook training webinars where we discussed the huge leaps he has made in his business once we implemented a well-executed marketing plan.
Blake's Success Story is also about how to systematically target a niche within your market and find the holy grail of marketing, otherwise known as the message-to-market match.
With the help of Jeni, one of our top Success PPC account managers, Blake was able to establish a well-structured and well-executed marketing plan to generate exactly the type of leads he was looking for.
The Riches Are In the Niches
"We literally took a segment of the market, we zoned in on it, and then we ran our ads to that market." – Blake Cory
Blake quickly identified who he wanted to target: First Time Buyers with a good enough credit score and yearly income to qualify for down payment assistance.
Facebook is a great ad platform for testing marketing messages and proved to be a cost-effective way to deliver this new campaign.
The image below is a screenshot of the final version of the ad as shown in the Facebook newsfeed.  This campaign generated over 500 leads in only one month!! And the cost per lead was under $5!!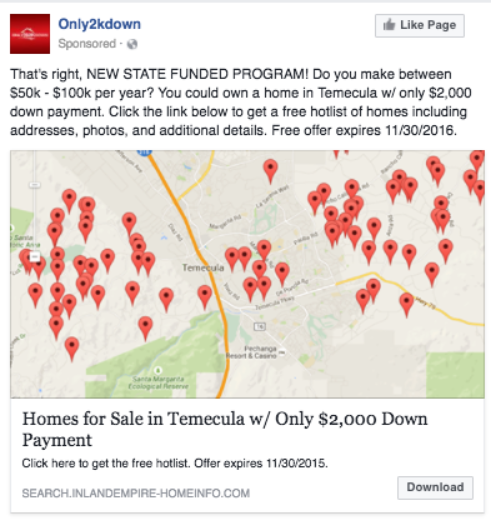 Pay close attention to how the ad copy was structured to zone in on Blake's specific target market.  In the ad example above, notice the following elements:
The Hook: Hotlist of Homes for 2K Down in Temecula
The Promise: If You Make $50k – $100k in Temecula You Could Qualify for this State Funded Program
The Benefit: Hotlist of homes includes addresses, pictures, and additional details
The Limited Time Offer: Sign up today! Offer expires after a certain date.
Blake Was Generating Too Many Leads!!
Now that the cornerstone campaign was established and working, the problem quickly became one of volume!  It was important to Blake to streamline the process as much as possible and make sure that the hotlist of homes was delivered automatically to each lead.
Below is a screenshot of a mobile-friendly HDX Squeeze Page set-up to capture the leads from Facebook and automatically deliver the hotlist of Temecula Homes for $2k Down. (HDX is our Custom MLS Portal for creating and displaying property Hotlists.)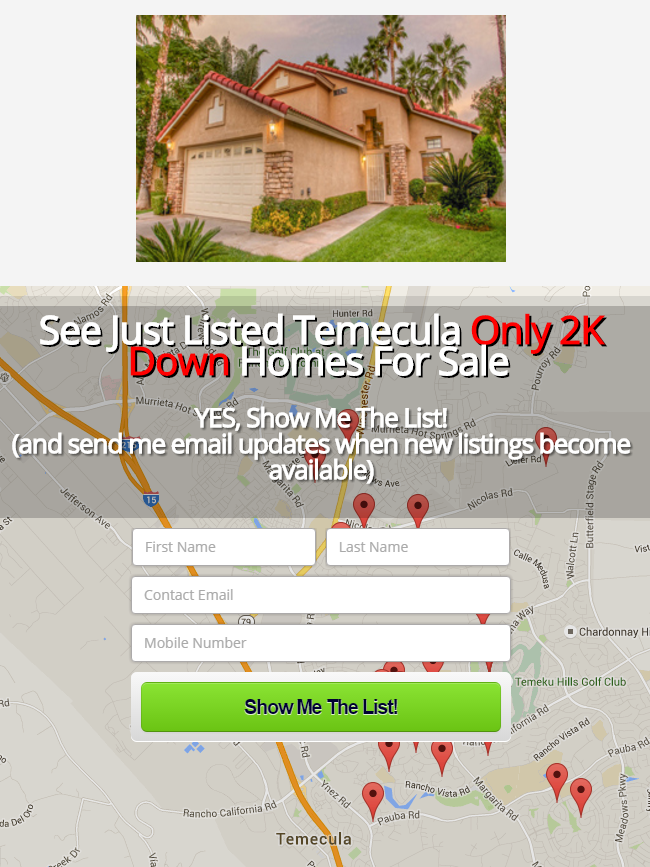 After the lead enters their information and hits that big green button Show Me The List! the HDX hotlist is delivered to the lead automatically.  
You too can find your cornerstone campaign!  Once you find a source of leads that is consistent and cost-effective, keep that going while you explore new markets and opportunities. As soon as Blake had a steady stream of First Time Buyer leads to work with, he directed his focus onto Move Up Buyers looking for Homes with Pools, and Homes for Veterans in his marketplace.
Questions to consider when identifying your ideal target market:
Is your offer specifically crafted for a particular demographic (i.e. first-time buyer, move-up buyer, luxury buyer)?
Is there a specific problem that your offer will solve for this demographic?
Is there something unique about what you can provide to your target market?
Can you identify the age, gender, or geographic region of your target market?
Can you identify the type of job or industry that your target market may be employed with?
Can you identify the home type, price, or characteristics that your target market wants?
Take some time to identify and connect with your ideal target market. By doing so, you will be that much closer to not only producing a steady stream of leads but the type of leads that you really want to work with.